NPG's awareness project and film Daughter continues to push the message and the need for discussion on the topic of violence against women and the harm victim blaming has on our society as a whole.
In February, Daughter is part of an online campaign curated by We Are Moving Stories founder Carmela Baranowska. The campaign is marketed through the site itself, which supports independent filmmakers, 50% of which are female.
Thanks to We Are Moving Stories, Daughter is partnered with Project Respect, a Melbourne Organisation that supports women trafficked into the sex trade within Australia. For a $30 AU donation, a link to the film Daughter is given as a reward.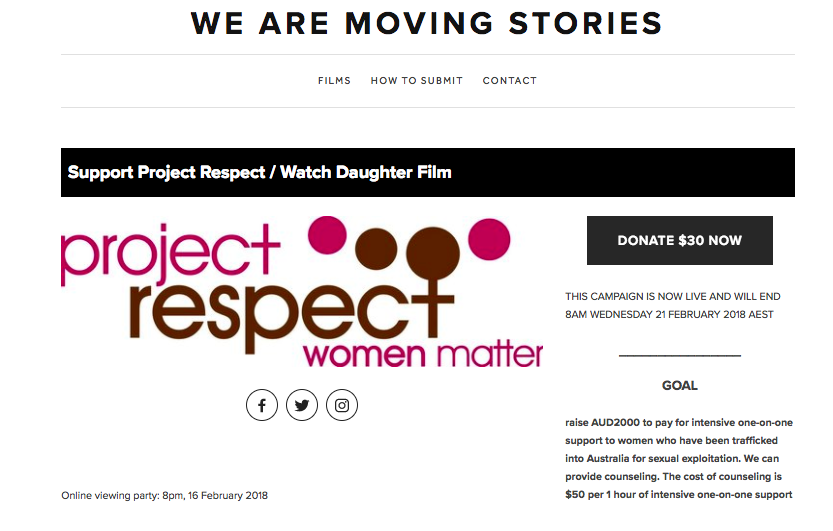 Find out more about the campaign and donate through this link and be part of the discussion.
There is even an online event through Facebook that today had a live discussion with Daughter director Sarah Jayne. Go to the page now, join in to leave a question and Sarah Jayne will respond in the quickest time possible.
There is until the 21st of February to donate to this joint campaign and raise money for Project Respect, however all donations directly to Project Respect are of course acceptable. The bonus is, this month for $30 you get to view Daughter online.
The campaign will end on the 21st of February, so get in quick. NPG also urge people donating to also pass the link to the campaign along, we call it Tag 3 friends, which is super easy to do on Facebook and Instagram.